Protecting Tech Titans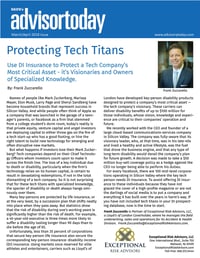 What do Mark Zuckerberg, Marissa Mayer, Larry Page and Sheryl Sandberg have in common? They are a tech company's most critical assets - it's visionaries and owners of specialized knowledge.
We invite you to download this article to learn more about corporately-owned Key Person Disability Insurance and how you can use Lloyd's of London to protect tech titans in your DI prospecting database.
We hope you enjoy the read!