Case Study: Key Person Disability Placement of Equity Funded Start-Up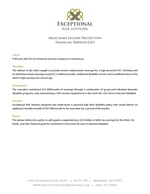 The success of a start-up rested solely on the shoulders of a 53-year-old technology star located in Silicon Valley, CA.
In this case, the advisor cross-sold key person disability coverage while processing a large key person life insurance policy.
Download the case study to read how we designed a key person disability policy.
Annual Premium Generated: $160,000
Standard Commission Rate: 15% Annually