Case Study: Multi-Life Guaranteed Standard Issue (GSI) of Global Law Firm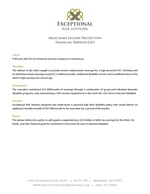 A well-known global law firm with roughly 250 partners earning in excess of $1.2 million annually were severely under-insured.
The firm sought to provide a voluntary disability plan to stay competitive amongst the top law firms.
Download the case study to read how we extended a multi-life GSI offer to the partners that was layered on top of their existing domestic plans.
Participation Rate: 39%