Case Study: High Limit Disability Protection for Singer & Songwriter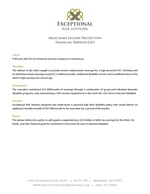 An entertainer's unique ability to perform is their ticket to future income.
Download the case study to read how we designed a $12 million personal high limit policy to cover not only the entertainer's voice, but their whole body from the event of injury or illness.
If you are currently working with a high income earner who is a star in their own field, it is very likely they have exceptional income exposures.