Case Study: Key Person Disability Placement of Equity Funded Start-Up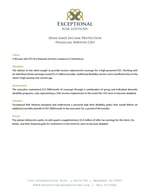 Do you want fries with that?
In this case, the advisor cross-sold key person disability coverage while processing a large key person life insurance policy. Please enjoy the case study detailing a policy placed on an equity funded technology super star.